At a glance
Expert's Rating
Pros
Class-leading performance 
Excellent cameras 
Impressive 120W charging 
Solid battery life
Cons
Unintuitive software 
Huge rear camera module 
Expensive
Our Verdict
The 13 Pro gets such a lot right, including stellar Snapdragon 8 Gen 2 performance and top-tier cameras. But Xiaomi's MIUI software is still the main reason not to recommend it. 
After a name change and the reintroduction of a Pro model last year, it's more of the same for Xiaomi at the start of 2023. 
At MWC in late February, the company launched two new flagships globally: the 13 and 13 Pro. An even more capable Ultra model is expected at some point, but Xiaomi has confirmed that there'll be no half-step 'S' update later in the year. 
From testing the 13 Pro, it's hard to imagine a non-gaming phone which could be more capable than this – perhaps only the Galaxy S23 Ultra. With Qualcomm's latest silicon, a main camera equipped with a huge 1in sensor, and some of the fastest charging around, the device is almost unmatched when it comes to hardware. 
But familiar frustrations remain on the software side, and they're the main reason this isn't an instant recommendation.  
Design & build
Huge, ugly rear camera module
New ceramic back
Return of the IP68 rating
Xiaomi has revamped the design of the 13 Pro – just not in a good way. Most of the phone retains its usual sleek appearance, but the gigantic camera module sticks out like a sore thumb. 
It reflects Xiaomi's new partnership with camera company Leica, along with some big upgrades to the rear sensors. But there's no denying it looks ugly, and protrudes significantly from the back of the phone.
Dominik Tomaszewski / Foundry
The effect can be reduced by applying the silicone case in the box, although even then there's a significant wobble when used face up on a table. The huge emphasis on phone cameras means a flush camera module isn't realistic, but surely Xiaomi could've done better than this. 
While the regular Xiaomi 13 also has a huge module, it doesn't stick out nearly as much. You can't complain that it looks like all other phones, at least. 
Another key change sees the glass back of the 12 Pro swapped for a ceramic one. It certainly feels very premium, but adds to the total weight significantly. At 229g, it's much heavier than last year's 12 Pro (205g), and one of the heaviest phones full stop.  
That rear design is also highly reflective, meaning it quickly accumulates noticeable fingerprint smudges. This can be mitigated by popping on a case, which also adds much-needed grip to an otherwise slippery device.  
The 13 Pro is well-built and feels impressively robust, but a ceramic rear means will it always be vulnerable to shattering than plastic. While the front is equipped with tough Gorilla Glass Victus, there are no such guarantees for the back.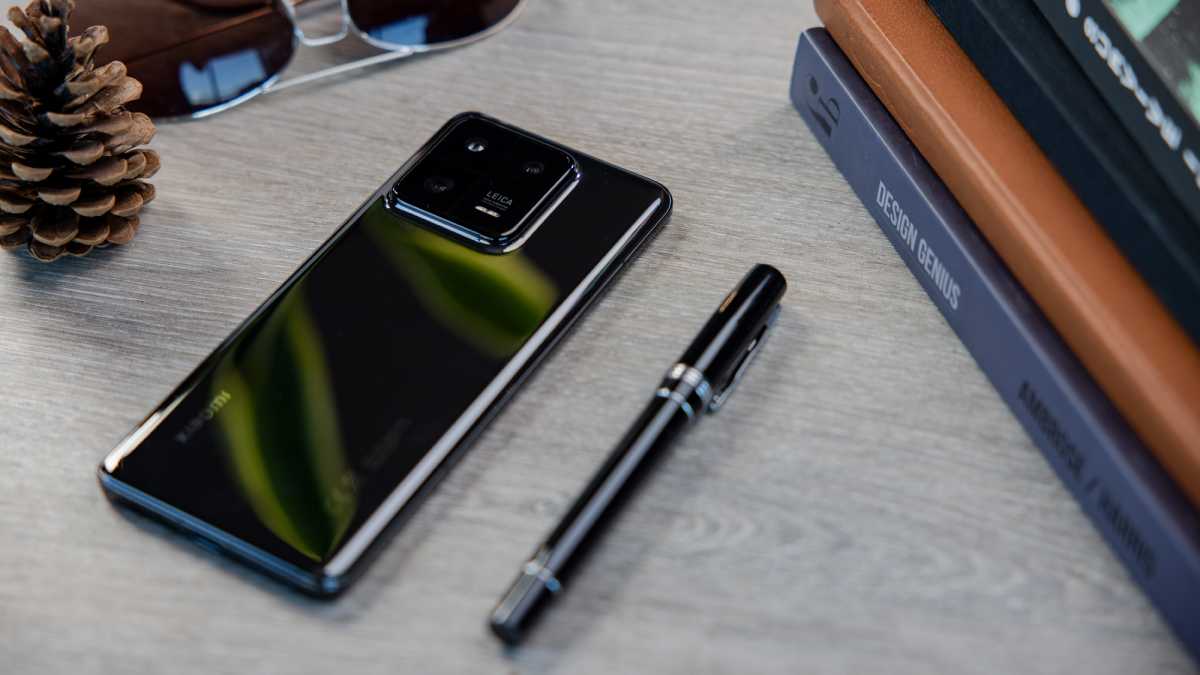 Dominik Tomaszewski / Foundry
One big improvement is that there's now an IP68 rating – previously seen on the Mi 11, but dropped for last year's phones. It means the phone is fully protected against dust and submersion in up to 1.5m of water for up to 30 minutes. 
Colour options are limited, with just black and white models to choose from. But if you're going to apply a case anyway, it doesn't really matter. 
It's also worth mentioning the vibration motor, which provides subtle haptic feedback as you navigate the phone. It does a good job of simulating real button presses, and feels very high quality. 
Xiaomi keeps things simple on the aluminium sides of the phone, with just the power button and volume controls on the right, then a SIM tray (supports dual SIM), single downward-firing speaker and USB-C port on the bottom. It means there's no 3.5mm audio jack, but that's not at all surprising. 
Screen & speakers
Superb 6.73in OLED display
Dynamic 120Hz refresh rate
Underwhelming dual speakers
The Xiaomi 13 Pro's display has only been slightly tweaked compared to last year, and it's functionally identical for most people. 
As it was already one of the best displays on any phone, that's hardly surprising. You still get a large 6.73in, 1440×3200 OLED panel, giving it an increasingly common 20:9 aspect ratio. The screen is a joy to behold, with superb detail and dynamic colours that really pop.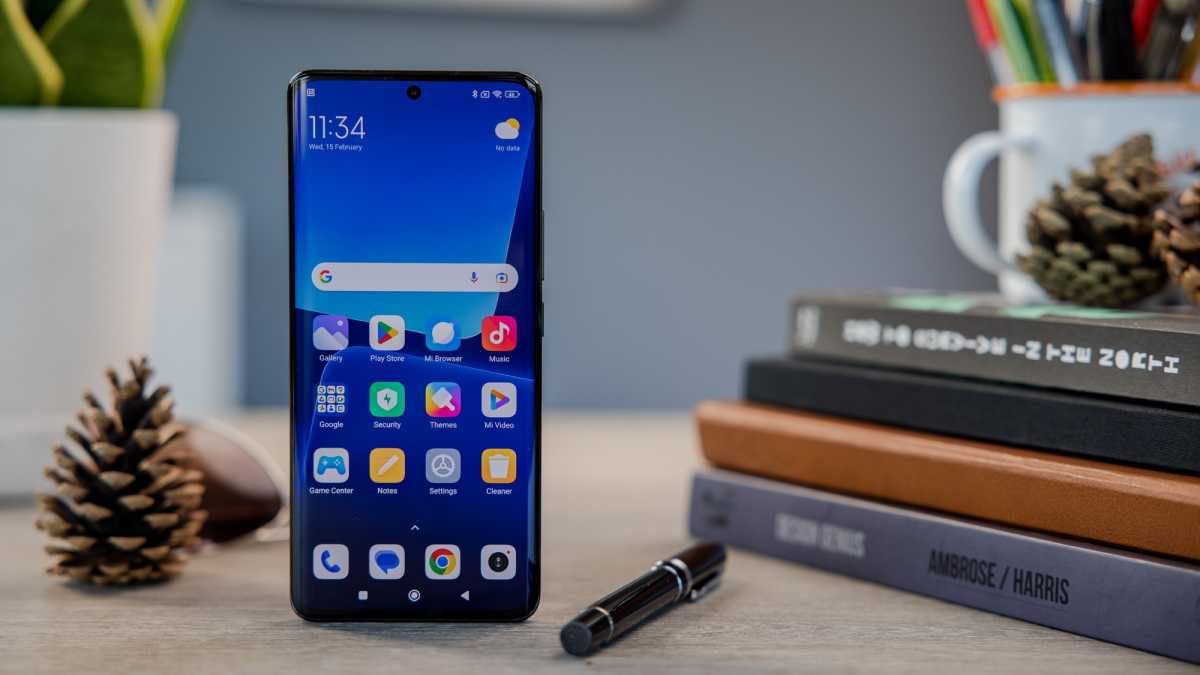 Dominik Tomaszewski / Foundry
It combines with an adaptive refresh rate, meaning the display can be set to automatically move between 1 and 120Hz depending on what you're doing. This is a great way to balance performance and battery life, only giving you those slick higher refresh rates when you'll actually benefit from them. 
You can manually set it to 60Hz or 120Hz if you'd prefer, but the dynamic refresh rate is a great feature that you won't find on many phones. After experiencing the slick, fluid transitions on the 13 Pro, you'll never want to go back to a 60Hz display again. 
Xiaomi says the screen can hit an incredible 1900 nits of peak brightness. That's far higher than most phones, and you'll have no problem using the 13 Pro on bright sunny days. Yes, there were a couple of these in the UK winter! 
Within the display you'll find an optical fingerprint sensor which is easy to set up and works well most of the time. However, there is quite a small target area to aim for, and any moisture will stop it from unlocking. 
Strangely, Xiaomi has decided to ditch the 12 Pro's quad speaker system, although they weren't particularly impressive.  
Combining a single downward-firing grille with the earpiece means you still get a stereo setup, but the audio hasn't improved much. It's generally clear and can reach a decent volume without much distortion, but there's very little bass or depth to the sound.
Specs & performance
Snapdragon 8 Gen 2 and 12GB of RAM
Superb performance across the board
256/512GB of non-expandable storage
Xiaomi's flagship phones are usually equipped with Qualcomm's latest and greatest chips, and the 13 Pro is no different. 
The phone is powered by the Snapdragon 8 Gen 2, which provides both performance and power efficiency benefits compared to the 8 Gen 1 found in the Xiaomi 12 Pro. Whether you can tell them apart is another matter, but there's no doubting the excellent performance here.
Dominik Tomaszewski / Foundry
Alongside 12GB of RAM on either configuration, the 13 Pro breezes through almost every task you can think of with ease. That includes web browsing, texting, watching videos, browsing social media and taking photos, plus quickly switching between apps and using them side-by-side. 
There's wasn't even a hint of stuttering or hesitation throughout my testing time, something which can't be said for most phones. It even extends to mobile gaming, with Call of Duty: Mobile, PUBG Mobile, and Asphalt 9 all remaining smooth and responsive. 
Even in these demanding scenarios, the 13 Pro only gets slightly warm to the touch. Overheating is something previous Snapdragon-powered phones have struggled with, but it's not an issue here. That might change if you want to play games for several hours, but there are dedicated phones for that. 
The 13 Pro keeps up with this year's other flagships in testing, only lagging behind those with lower resolution displays, which have an easier time in the graphics-heavy GFXBench. 
In terms of storage, there are two choices: 256GB or 512GB. There's no support for expandable storage. 
Being powered by the Snapdragon 8 Gen 2 means the 13 Pro has 5G support, alongside the latest Bluetooth 5.3 and Wi-Fi 6E standards. Xiaomi also says it'll be compatible with the upcoming Wi-Fi 7 via a software update. 
Camera & video
Triple Leica 50Mp rear cameras
Excellent shots from all three
Impressive 30Mp selfie camera
Xiaomi has teamed up with camera company Leica for the 13 series, with both regular and Pro models featuring some significant changes. 
That might not be immediately apparent from the specs, with the hefty rear module still containing three 50Mp lenses. However, that main sensor is now the much larger 1in Sony IMX989 – the same as in current camera champ Vivo X90 Pro and last year's Xiaomi 12S Ultra – so it's no surprise that the shots it produces are impressive.
The phone is particularly well suited to landscape shots, but architecture and street photography also look great. However, without a dedicated depth sensor, the software-based portrait mode is hit and miss. An attractive background blur (which can be adjusted after the photo is taken) is possible, but it often struggles with edge detection. 
If most of my shots above look a little washed out, that's because they were taken on a winter day in the UK: that was how the scenes actually looked. But across all scenes, you get clear, well-exposed shots with plenty of detail and great dynamic range. Key parts of the shot are still clearly visible when cropping in, so you don't lose anything important in the background.
The 50Mp telephoto lens is also now larger, meaning it offers 3.2x optical zoom rather than the Xiaomi 12 Pro's 2x. It means you can get some detailed shots from quite a long distance away, although relying on digital zoom after that (all the way to 70x) leads to a rapid decline in quality. 
Then there's the 50Mp ultrawide, which offers the same 115˚ field of view as its predecessor. Keeping the megapixel count so high means there's only a slight drop in detail compared to the main sensor, and its versatility is great in a variety of scenarios. 
As you might expect, there are loads of different modes to choose from in the camera app. Among those, you can choose between 'Leica Vibrant' and 'Leica Authentic' modes. I stuck with the latter for the most part, which lacks the usual saturation of many smartphone cameras but remains impressively true to life.
If you'd rather go for the vibrant mode, look out for vivid, eye-catching colours that really stand out. In many situations, you won't need to do any editing before sharing, especially for a personal social media account.
While the main lens handles low-light environments relatively well, there's also a dedicated night mode. This adds a natural-looking brightening effect without losing key details or introducing too much noise. Pretty much every phone camera has a night mode these days, but this is one of the most impressive.
The selfie camera remains at 32Mp, but it's still one of the very best. Exposure, details and colours are all on point, and it does a decent job of portrait mode. Make no mistake: this is one of the best phone camera systems around.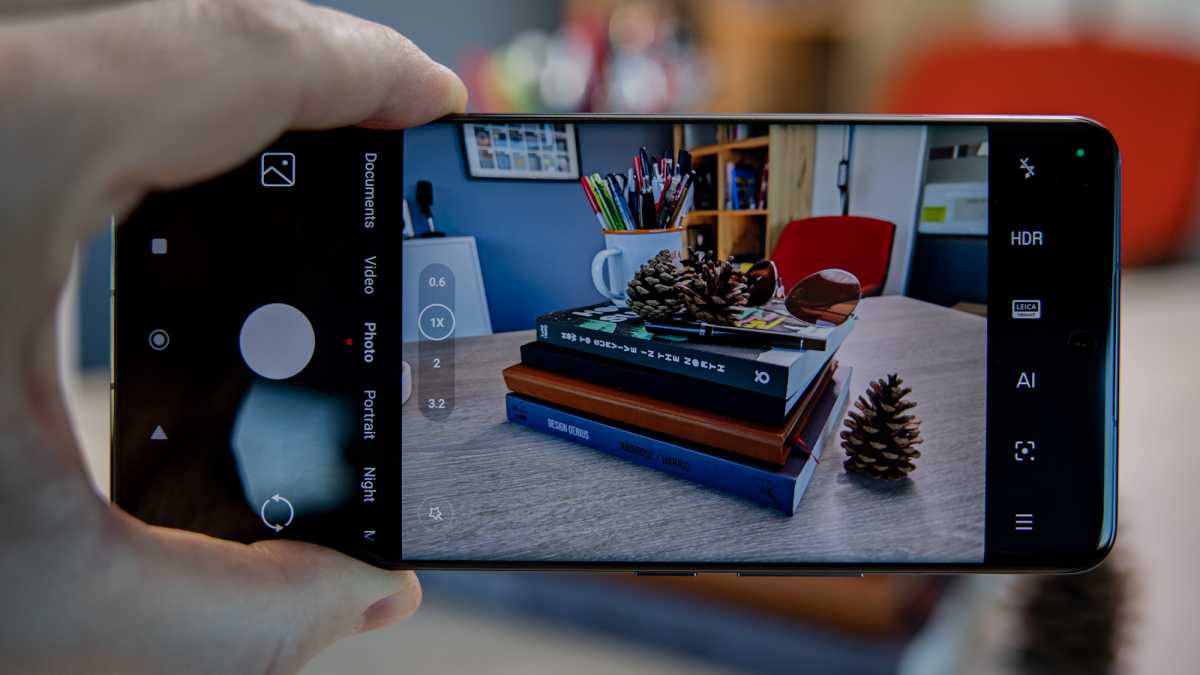 Dominik Tomaszewski / Foundry
The Xiaomi 13 Pro can record video up to 8K at 24fps, but the default 1080p at 30fps is a better option for most people. Footage won't rival an iPhone, but OIS on the main lens means it remains clear and steady – even with lots of movement. 
Battery & charging
4800mAh battery
Solid all-day battery life
120W wired charging, 50W wireless
Battery life was a key weakness of the Xiaomi 12 Pro, but that's not the case with its successor. The combination of a larger 4800mAh cell and improved Snapdragon 8 Gen 2 power efficiency means it can now comfortably last a full day – even with some intensive tasks such as gaming or using GPS. 
That's reflected in the PCMark battery test, which simulates real-world world usage at a fairly typical 200 nits of brightness. A time of 11 hours 56 minutes is well over four hours better than its predecessor, and above average among the high-end phones we've recently tested. 
With the improvement here, the 13 Pro is one of the few phones that delivers great battery life and charging speeds.  
Dominik Tomaszewski / Foundry
The 120W adapter in the box will get you a full charge in less than half an hour, while it also supports 50W wireless charging and 10W reverse wireless charging. The latter is great for quickly charging accessories such as a watch or phone, but it supports all devices with the Qi standard. 
Software & updates
MIUI 14 over Android 13
Frustrating, unintuitive software experience
Three years of Android version updates
The 13 and 13 Pro are the first Xiaomi phones to run Android 13 out of the box. However, both have Xiaomi's MIUI 14 skin over the top, which remains the single biggest reason not to buy the 13 Pro. 
Essentially, MIUI 14 dilutes what makes Android so great, then adds a garish colour scheme and annoying apps you can't uninstall. It's perfectly usable, but a significant downgrade compared to the software experience on many other phones. 
Key differences compared to 'stock' Android include a split notification shade and control centre, colourful icons, and a redesigned Settings menu. All of these take the polish off the user experience, rather than adding to it.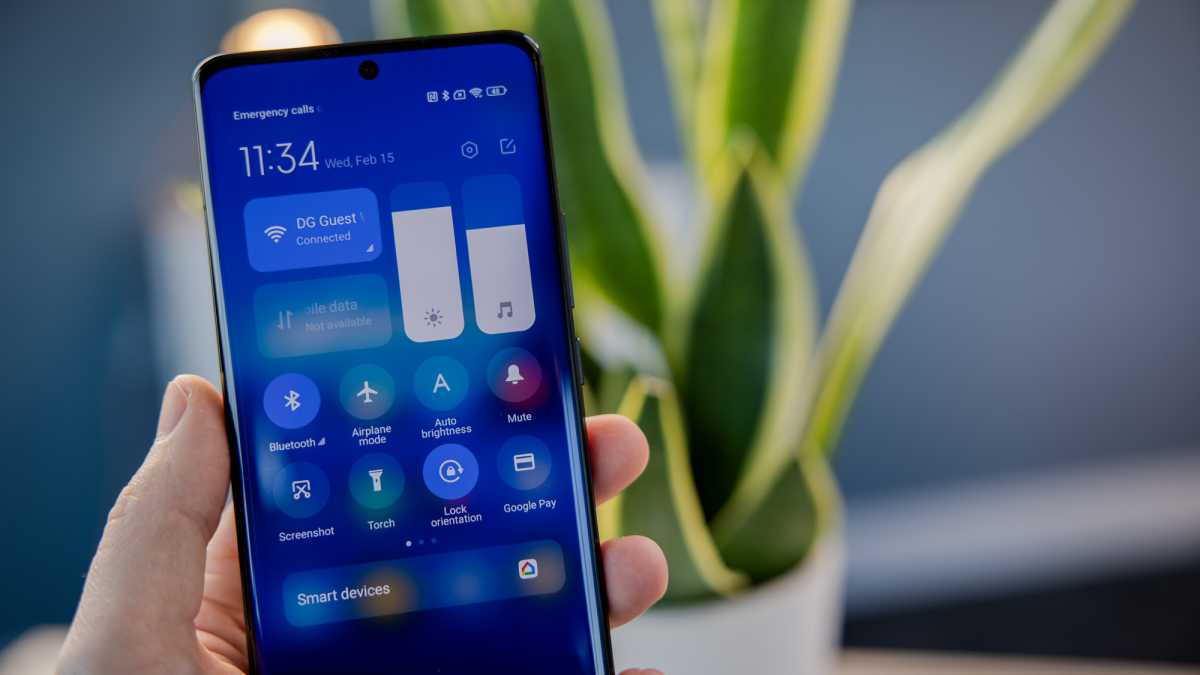 Dominik Tomaszewski / Foundry
Then there are all the pre-installed apps, and there are some strange choices here. Xiaomi seems to think everyone wants to use the likes of TikTok, LinkedIn, and Solitaire, though at least these can be uninstalled.  
The company has its own apps for messaging, security, file management, web browsing and many more, none of which you can remove. Your best alternative is to hide these in the app drawer and never use it, but they shouldn't be there in the first place. 
I've used a few Xiaomi phones now, so know what to expect. But there's a significant learning curve if you haven't tried one before. 
In terms of software support, Xiaomi commits to three years of security updates and four of security patches. That means you can expect Android 14, 15, and 16, plus patches until 2027. 
This is roughly in line with other Android manufacturers, albeit behind both Samsung and Apple. 
Price & availability
As expected, the Xiaomi 13 Pro doesn't come cheap.  
It'll set you back £1,099/€1,299 for the 12+256GB model – the only one available in the UK.
Pre-orders are live now via the Xiaomi website, ahead of the phone's release on 14 March. At that point, you'll also be able to buy one from Currys and Argos.
As usual, the device won't be sold in the US. 
The obvious alternative is Samsung's Galaxy S23 Plus, which starts at $999/£1,049/€1,219. But there are plenty of great alternatives in our best smartphone chart. 
Verdict
The Xiaomi 13 Pro takes what made the 12 Pro so great and makes it even better. But that doesn't mean you should buy one.  
Performance from the Snapdragon 8 Gen 2 is absolutely fantastic, with its improved power efficiency and a larger battery delivering significant battery life improvements. New Leica cameras are close to the best you'll find on any phone, with great results across all four lenses. 
But a huge new camera bump interrupts an otherwise sleek design, while the software experience remains a major source of frustration. 
At this flagship price point, those shortcomings are hard to ignore. The Xiaomi 13 Pro is a great phone, but it's not best-in-class. 
Specs
Android 13 w/ MIUI 14 
6.73in LTPO WQHD+ OLED 120Hz curved display, 20:9, 240Hz touch sampling, HDR10+, Dolby Vision 
In-display fingerprint sensor 
Gorilla Glass Victus 
Qualcomm Snapdragon 8 Gen 2 
12GB RAM LPDDR5 
256GB/512GB UFS 3.1 non-expandable storage
Cameras: 

50Mp, f/1.9 main camera with OIS 
50Mp, f/2.2 ultrawide camera 
50Mp, f/2.0 3.2x zoom telephoto camera 
32Mp, f/2.0 front-facing camera 

Dual speakers with Dolby Atmos 
Dual-SIM 
5G 
WiFi 6E 
Bluetooth 5.3 
IP68 
USB-C 
4820mAh battery 
120W wired charging 
50W wireless charging 
10W reverse wireless charging 
162.9 x 74.6 x 8.4 mm 
229g 
Launch colours: Black, White