Windows 10 was originally described as "the last version of Windows", with Microsoft providing regular updates rather than launching a brand-new version.
However, that all changed with the release of Windows 11, which went from abstract concept to official announcement in a matter of weeks. The cancellation of Windows 10X influenced Microsoft's decision, but the company had clearly been working on a new operating system for a while.
It doesn't look like Microsoft is stopping there, either. Reports suggest a successor, likely known as Windows 12, is in development ahead of a potential release next year. Here's everything you need to know.
Will there be a Windows 12?
It's looking likely. There was a six-year gap between the release of Windows 10 and Windows 11, but there are no signs the latter will be the last major version of Windows.
A July 2022 Windows Central article suggested a Windows 11 successor is in the works, although there's no guarantee it'll be known as Windows 12. Author Zac Bowden cites 'my sources', but he has a strong track record for Windows news.
In February 2023, VideoCardz.com reported on a since deleted tweet from leaker @leaf_hobby, where the OS list for an upcoming Intel Meteor Lake desktop CPU apparently included Windows 12. We can't verify how accurate this is, but the leaker in question deid reveal full Intel Xeon chip specs before they launched.
Then, in an interview with The Verge, Microsoft head of consumer marketing Yusuf Mehdi mentioning "develop future versions of Windows" in reference to AI features. That may just mean a future update, but a new major version would make a lot of sense.
Just a few days later, in March 2023, Microsoft launched a new fourth 'Canary' channel of the Windows Insider Program. This will be more experimental than even the existing 'Dev' channel, and Microsoft says it'll be used to "preview platform changes that require longer-lead time before getting release to customers".
It means builds in the Canary Channel will be very unstable, but provide access to features that are a long way away from general release. It's also notable that there's no mention of Windows 11 in Microsoft's summary of the Canary Channel below – that could mean it's only for Windows 12 features.
Microsoft
The first report on Windows 12 came from German tech site Deskmodder back in February 2022, which suggested Microsoft was making preparations for Windows 12. The article mentions "our information" as the source, although it previously referred to a now-deleted tweet from SwiftOnSecurity which was revealed to be a joke.
However, the hints from Microsoft and Intel, combined with reports from two reputable publications, means it's likely a major new version of Windows is on the way. It'll probably be known as Windows 12, but that's by no means guaranteed.
When will Windows 12 be released?
As you might expect, we don't know exactly when Windows 12 (or its equivalent) will be released.
Our best guess so far comes from the same Windows Central article, which says there'll be a major new version of Windows every three years. With Windows 11 released in 2021, that suggests we'll see Windows 12 at some point in 2024. As of July 2022, it was supposedly in the "early planning and engineering stages".
That aligns with the Deskmodder article, which said Microsoft began work on Windows 12 in March 2022.
For context, most recent versions of Windows have received around 10 or more years of support from Microsoft. The big exception to that is Windows 8's four years of mainstream updates, but that was mainly due to its poor reception.
Microsoft hasn't said when Windows 11 will stop being supported, but a decade from its release would suggest around 2031. A new version would need to be available at least a few years before, but it looks like we'll be getting it much earlier.
Remember, the release date of Windows 12 isn't the day you'll be able to start using it. There will likely be a gradual rollout taking several months, with newer hardware typically prioritised.
Will Windows 12 be free?
It should be, at least initially. Microsoft offered a free upgrade to Windows 10, and it's technically still available.
Updating to Windows 11 also won't cost you a penny, provided your device meets the hardware requirements, and there's no indication Microsoft is putting a time limit on it. Buying a standalone copy starts at $139/£119.99.
So once Windows 12 is released, it'll almost certainly be free for a while. Microsoft will be understandably keen to get as many people onto the new OS as possible.
Will Windows 12 have different hardware requirements?
Probably, but it's impossible to predict what they might be. While laptops and PCs have retained the same core design for decades, plenty of other specs have rapidly changed over the years.
Windows 11's hardware requirements have proven controversial, but security features such as TPM and Secure Boot are only likely to become more important to Microsoft in the future.
You'll probably need a recent chip from the likes of Intel, AMD or Qualcomm, but other chipmakers may be popular by then. Expect the current minimums of 4GB of RAM, 64GB of storage and a 720p display to all be increased.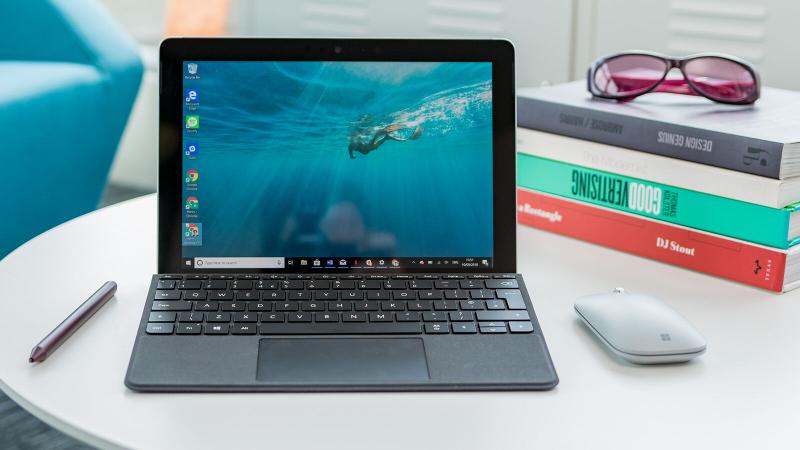 Dominik Tomaszewski / Foundry
There's also a chance we'll see a requirement for AI, given Microsoft's recent investment into OpenAI, the company behind the ChatGPT intelligent chatbot. As Windows Latest reports, AMD is working on CPUs with AI built-in, and it's likely Intel and ARM will follow suit at some point.
What new features will Windows 12 have?
As you might expect, we have no idea what new features will be available in Windows 12. At this stage, it's likely Microsoft doesn't know most of them, either.
However, the company may have inadvertently revealed an early version of the Windows 12 UI. A mock-up at Microsoft's Ignite conference in October 2022 shows a very different design:
Key features here include a floating taskbar and pill-shaped search bar in the top-centre, with the latter reminiscent of the Dynamic Island on the iPhone 14 Pro. The Widgets panel and Action Center are also at the top of the screen rather than the bottom.
It's not particularly clear from the tweet above, but Zac Bowden at Windows Central recreated it: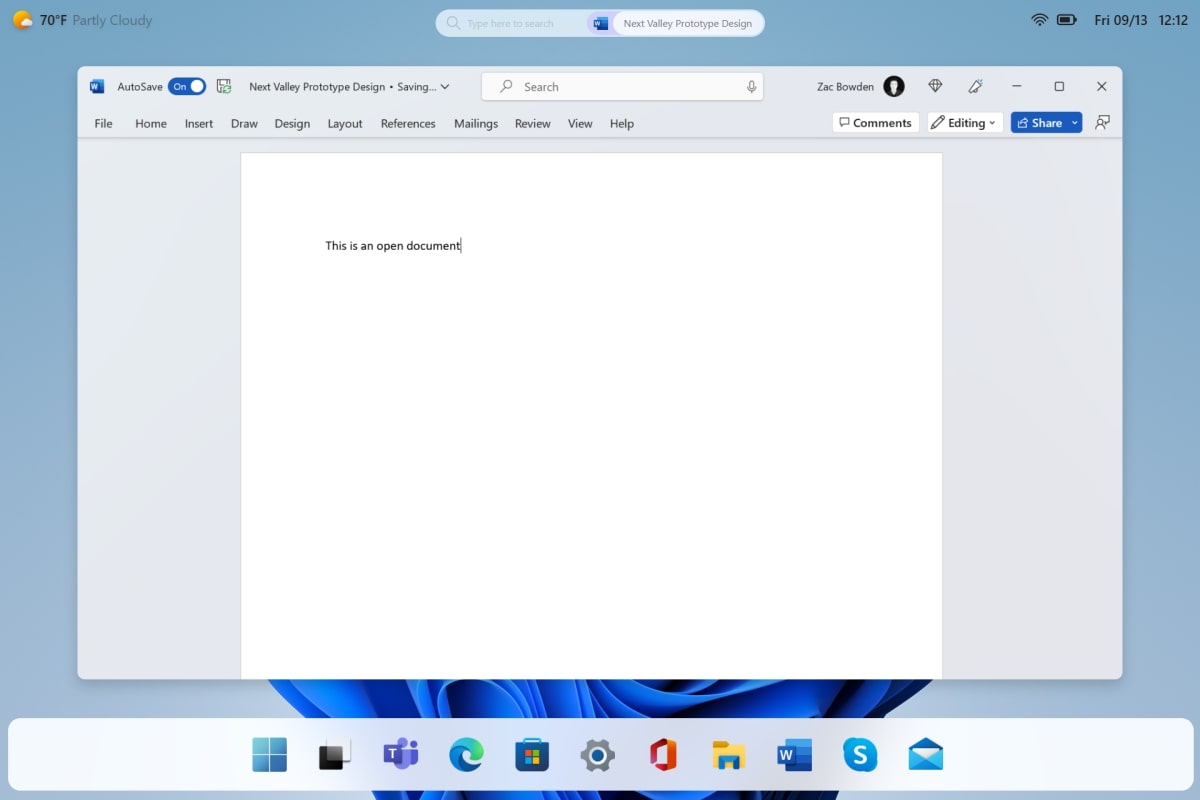 Zac Bowden/Windows Central
Of course, there are no guarantees this will be what Windows 12 will look like. Plenty could change between now and a final release.
Previously, Deskmodder suggested that Windows 12 will be built from the ground up, rather than being based on previous versions. That's what we saw with Windows 10X, before many features ended up being incorporated into Windows 11.
Microsoft
This opens up the possibility of a radically different design, although big changes might not prove popular with Windows' huge user base. Indeed, Windows Central's Zac Bowden said in an August 2022 video that'd he'd be "shocked if they did a Windows 8-style change, however, I wouldn't write it off".
But if foldable PCs take off in a big way, Bowden said "we'd have to see with Windows 12 lots of enhancements to the Windows design and UX". Microsoft may decide to release a foldable alternative to the cancelled Surface Neo, but Windows 11 doesn't cater to either of these form factors particularly well in its current form, which would raise the prospect of a specific tablet mode.
This was ditched with the introduction of Windows 11, although the experience on tablets is now good enough that it's not needed.
It also looks like AI will feature heavily in Windows 12. At AMD's CES 2023 keynote in January, Microsoft Chief Product Officer Panos Panay said that "AI is going to reinvent how you do everything on Windows". We don't yet know which kind of features it will power, but it's likely to build on the NPU (Neural Processing Unit) found on ARM models of the Surface Pro 9.
Microsoft's investment in its Bing AI (based on ChatGPT) and addition to the Windows 11 search bar (albeit in a very limited capacity) suggests AI will play a very big role in the next major version of Windows.
The original Windows Central article which hinted at the 2024 release date didn't reveal any concrete new features either. But it did suggest the current strategy of larger "Moment" updates every few months would continue.
Aside from that, minor improvements are most likely. Making Windows 12 stable and mostly bug-free should be the priority for Microsoft.
But if you want to try out potential Windows 12 features before anyone else, it's worth signing up to the new Canary Channel of the Windows Insider Program. This certainly won't be bug free (and so isn't recommended on your primary device) but may provide an early look at features in the works. However, not all of these will make it into the final version.
Until more is known, check out our extensive coverage of Windows news on Tech Advisor, which includes both Windows 10 and Windows 11.