About the Discovery Art Fair
The Discovery Art Fair is an event designed to inspire and engage with new names and artworks of the contemporary art scene.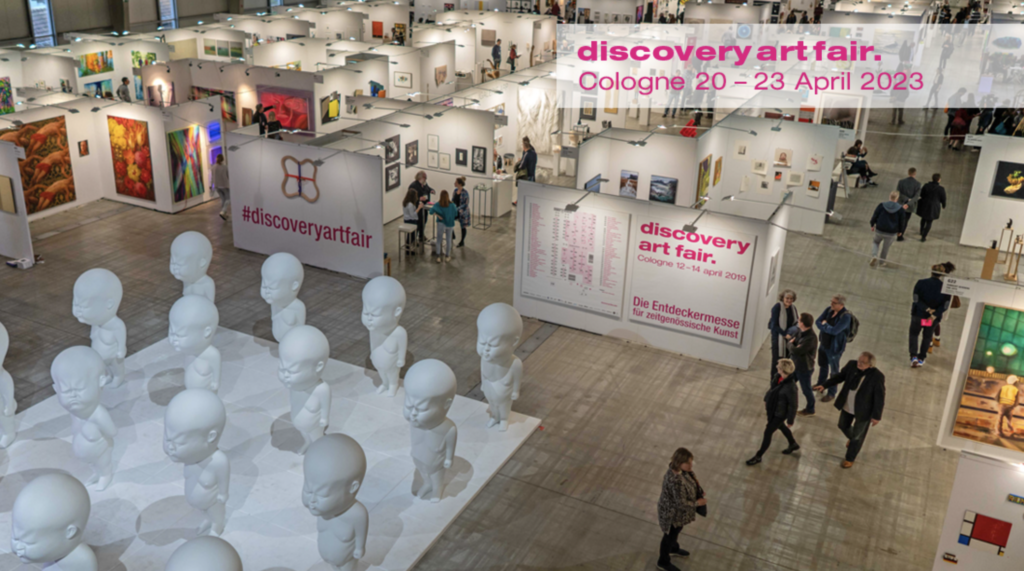 Taking place from April 21-23, 2023, the fair addresses both new and experienced collectors. It indeed showcases a broad spectrum of emerging contemporary art at affordable prices with an extraordinary selection of local and international galleries. The fair aims to become one of the most exciting art events to follow as one of Germany's most progressive art fairs.
Art lovers see the Discovery Art Fair as an ideal extension to Art Cologne, which takes place in the fall—a place where their knowledge of the contemporary scene broadens their collecting possibilities expand. Clad in a friendly and communicative atmosphere, the organizers invite all visitors to enter the dialogue with artists and gallerists and to connect with the international art community. The stimulating environment of the fair is where many new artistic relationships blossom, and experienced collectors or first-time buyers can spot and buy original art for their homes or office.
Art Media Showcased
The diversity of artistic objects and media ranges from large-scale canvasses to miniature editions. With painting being only one of the mediums present at the Discovery Art Fair, guests will visit works of sculpture, graphic prints, mixed media, installations, photography, video art, and urban art, and the quality of works presented is equally important to the Discovery Art Fair team. 
Many of the artworks that debuted at the fair found their way into world-renowned art spaces worldwide.
The fair spans across the 4000 sqm of the historic XPOST venue, serving as the hub for all contemporary art enthusiasts. There will be various programs for artists and art professionals, as well as workshops and guided tours.
This fair is an event to connect with art professionals and dealers. A place to meet artists in person, and a market for some of the most creative, high-quality, affordable art.
The Discovery Art Fair Cologne hopes to encourage your collector's spirit to act!
When: April 21st – 23rd, 2023 | Opening April 20th, 2023
Where: XPOST in Cologne | Gladbacher Wall 5, 50670 Cologne
Discover Contemporary Fine Art > 
Discover Contemporary Photography> 
Discover Contemporary Urban Art >
About the Curators >