Electric bikes come in all shapes and sizes. You can get a fold-up city bike, an off-road mountain bike, a step-through shopper and plenty more besides. E-bikes are fast becoming the obvious choice for replacing short car journeys, because they're better for the environment, help you get fit – or stay in shape – and can save money in the long run.
And if you wanted to take your child to school or buy some groceries, you might want to take a look at a cargo bike, which is designed for carrying – you guessed it – cargo.
On an electric bike, cycling up hills becomes almost effortless, and you won't be slowed down by strong headwinds. All the worst things about regular cycling are solved by an electric bike. Except getting wet in the rain, of course. You can still ride an electric bike in the rain, though.
While electric bikes cost more than regular bikes, there are ways to bring down that cost. In the UK you could ask your employer if you can buy an e-bike on the Bike2Work or Cyclescheme . This can make them a lot more affordable.
Are electric bikes worth it?
Absolutely. They make it easy to cover longer distances than you can on an ordinary bike, and you can easily cycle up hills even if you're unfit. Electric bikes help you to get fit, too, despite the assistance their motors provide.
Electric bikes really are for everyone, no matter your age or fitness level.
Electric bikes are legal in most countries, but the laws aren't the same in all. In Europe and the UK, motors are limited to 250W and assistance speeds to 15.5mph / 25km/h. But in the US, bikes can assist to 20mph and have motors up to 1000W in certain states.
Best electric bikes: reviewed & ranked
1. VanMoof S3 – Best electric bike
Pros
Automatic gears
Built-in lock & alarm
GPS tracking
Cons
Too big for short riders
No suspension
Price keeps rising
Price When Reviewed:

$2548
So long as you don't need a bike with suspension or one that can fold up for easy storage, the VanMoof S3 is hard to beat.
The automatic gears, powerful motor and good range make it a joy to ride. There are lots of useful extras including a built-in lock, alarm and tracking system, and you get LED lights and mudguards as standard – plus a generous three-year warranty.
Do note that if you're under 170cm (5ft7), buy the X3 instead as the S3 has a large frame.
One of the biggest attractions of the S3 when we first reviewed it was the low price compared to the S2, but VanMoof has had to increase the price several times, so it's no longer the bargain it once was.
Read our full
VanMoof S3 review
2. MiRider One – Best folding electric bike
Price When Reviewed:

Not available in the US
The MiRider One is a thoughtfully designed folding bike which is well built and great to ride.
It's more affordable than some of its rivals, yet has very few compromises. It's relatively lightweight, built with good-quality components and is covered by a two-year UK warranty.
Mudguards and a front light are included as standard, and there's no app to complicate things: you just unfold and ride.
Like some others here, it's no longer as cheap as it used to be. The current model costs £200 more than the 2021 version did, but has a larger-capacity battery for a better range (up to 45 miles) and a new motor with 25% more torque, so it isn't just inflation.
It's worth noting that there are no gears, which makes it harder to ride – especially up hills – if the battery runs out. But if you're careful to ensure it doesn't, it isn't a problem.
Read our full
MiRider One review
3. Fiido L3 – Best budget electric bike
Pros
Impressive range
Plenty of torque
Affordable
Price When Reviewed:

$999
The L3 is a fold-up city bike that's cheaper than you'd expect, and has a much bigger battery than most rivals. Some people will dislike that this makes it heavy, while others – maybe cycle couriers – will appreciate that it will allow them to get around all day (perhaps even multiple days) without running out of juice.
It's a budget bike, but that massive battery and the fact it's a 48V system will be more than enough to persuade some that it's the best choice over other foldable models here.
Read our full
Fiido L3 review
4. Carrera Vengeance E – Best budget off-road electric bike
Pros
Good value
UK warranty
Improved display
Cons
Some entry-level components
Limited range
Built to a budget, the Vengeance E offers a good overall specification, with a Suntour HESC system that uses a torque sensor rather than inferior cadence sensors.
The range of up to 40 miles is fine at this price, and unlike Chinese imports, you can take the Vengeance E to your local Halfords store to get it repaired should anything break.
The cheap-looking control panel from the 2019 model has been swapped for the much superior Suntour compact OLED and, aside from the slightly noisy motor, it's great value compared to many electric mountain bikes.
Read our full
Carrera Vengeance E review
5. Rad Power Bikes RadRunner 2 – Best fat tyre electric bike
Pros
Large cargo rack which can house a second seat
Suitable for shorter riders
Cheaper than a cargo bike
Cons
Can be cramped for taller riders
Very basic display
Single speed
Price When Reviewed:

$1499
The RadRunner 2 is a utility bike that should appeal to anyone looking for an inexpensive electric bike for carrying luggage (or a second person) to replace their car for short journeys.
Range is relatively limited compared to other bikes here and optional accessories (of which there are many) can push the price up a lot from the attractive-looking purchase price.
If you can't tell from the photo, this is a chunky, heavy bike but strangely it's not well suited to tall riders, who may well find the frame too small for comfort.
Read our full
Rad Power Bikes RadRunner 2 review
6. Volt Pulse – Best electric commuter bike
Pros
Comfortable
Powerful motor
Choice of frame size
Cons
Heavy
No GPS or theft tracking
Volt's Pulse has been around for ages, but got an update in 2021. One of the big changes is that the battery now slots into the frame, making it much neater.
The price includes the mudguards, lights, kickstand and built-in Dutch-style lock, and unlike the VanMoof S3 (which has GPS, Bluetooth and and embedded SIM for tracking it), it hasn't got loads more expensive over the past couple of years.
If you're not bothered by the absence of tracking features, then the Pulse is a great choice. Just bear in mind it's a big, heavy bike: this is great for touring around, but not if you have to regularly lift it up steps or onto public transport.
Read our full
Volt Pulse (2021) review
7. Fiido X (V2)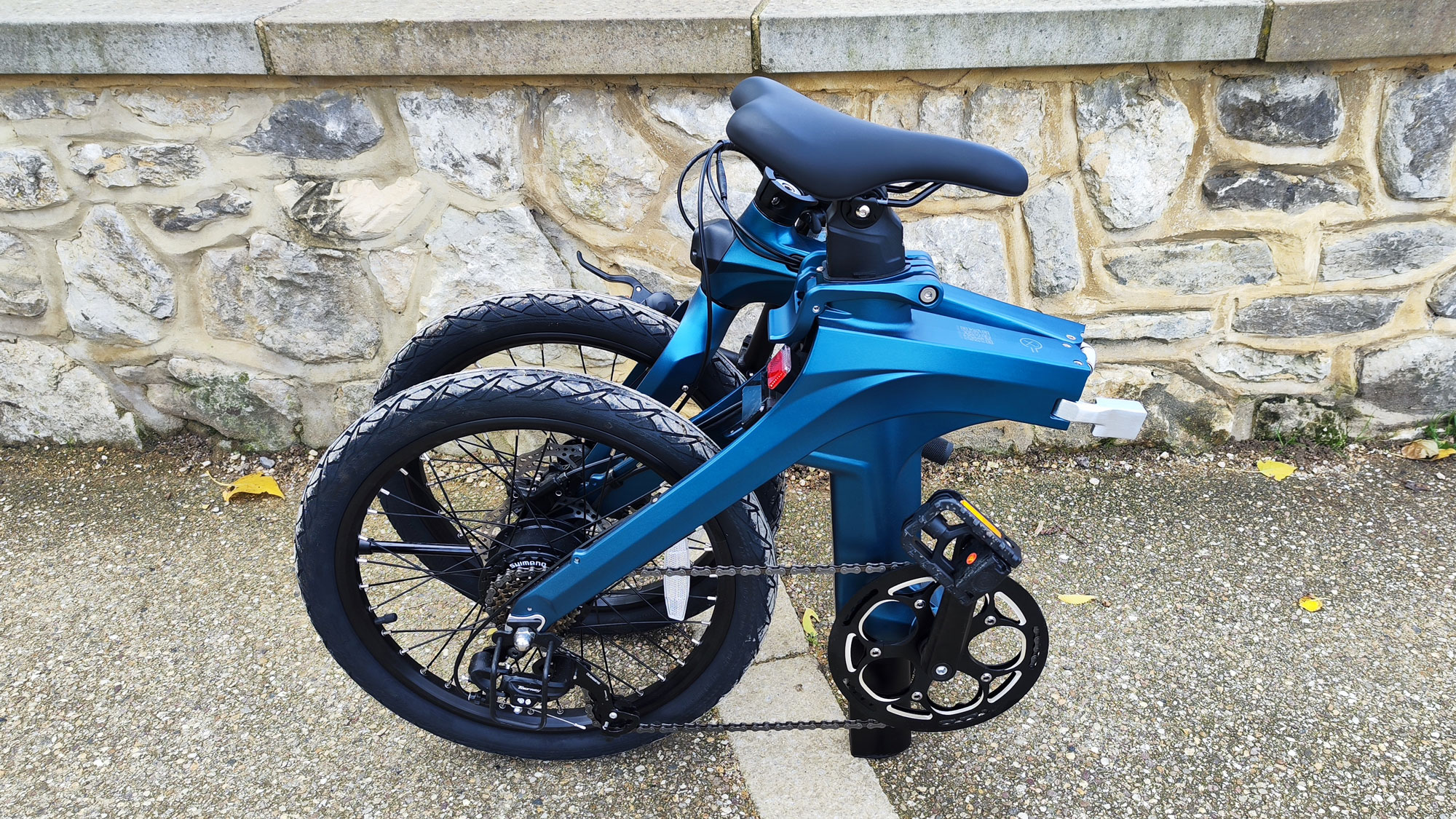 Pros
Great ride quality
Quiet motor
Removable battery
Cons
No suspension
Keypad system feels like a gimmick
No handlebar height adjustment
Price When Reviewed:

$1799
The Fiido X V2 is a superb folding e-bike which rides exceptionally well and has just about all the features you'd want. It's well priced, too.
The battery is built into the seat post and can be removed for charging, though the keypad security system is actually less convenient than if Fiido had opted for a simple key lock.
But it's not a deal-breaker by any means, and you get built-in lights, a torque sensor (for smooth power delivery) and hydraulic disc brakes. Thanks to seven gears, you can still ride this bike when the battery runs out, something that's not as easy on single-speed electric bikes.
Like all Fiido models, watch out for the short warranty on many components: only the frame itself gets the full three-year cover.
Read our full
Fiido X review
8. Eskute Polluno Pro
Pros
Mid-drive motor with torque sensor
Good display
Cons
Heavy
Only one frame size
The Eskute Polluno Pro is an e-bike that's well suited to commuting. But with its mid-mounted motor, torque sensor and comfortable, noiseless ride, plus nine gears and a step-through design it's great for all kinds of on-road cycling.
It is heavy, though, and shorter riders may find it too big: there's only one frame size available. Eskute also sells a non-Pro model which is cheaper and has a motor in the rear wheel hub instead.
Read our full
Eskute Polluno Pro review
9. Raleigh Array
Pros
Appealing design
Good range
Cons
Big & heavy
No built-in security measures
Price When Reviewed:

Not available in the US
The Array is Raleigh's entry-level electric bike. You can pick between three different frame styles, including a 'shopper'-style step-through model. The one shown above is the 'open frame' design. Each comes in three frame sizes to suit wide variety of riders.
The classic looks are certainly a highlight, and there are seven gears to help when you're pulling away from a standstill, as well as on hills. But the powerful motor makes light work of those and the removable battery has a range of up to 60 miles. That, as with all e-bikes, varies a lot depending on many factors.
The price includes lights, a kick-stand and mudguards, but there's nothing in the way of security: no lock and no tracking tech. Amazingly, the price has dropped since we reviewed it, bucking the trend here, and making the Array more attractive.
And as long as you're able to keep it locked up securely and don't have to leave it, say, on your local high street or at a railway station regularly, that may not be an issue for you.
Read our full
Raleigh Array e-bike review
10. Eskute Netuno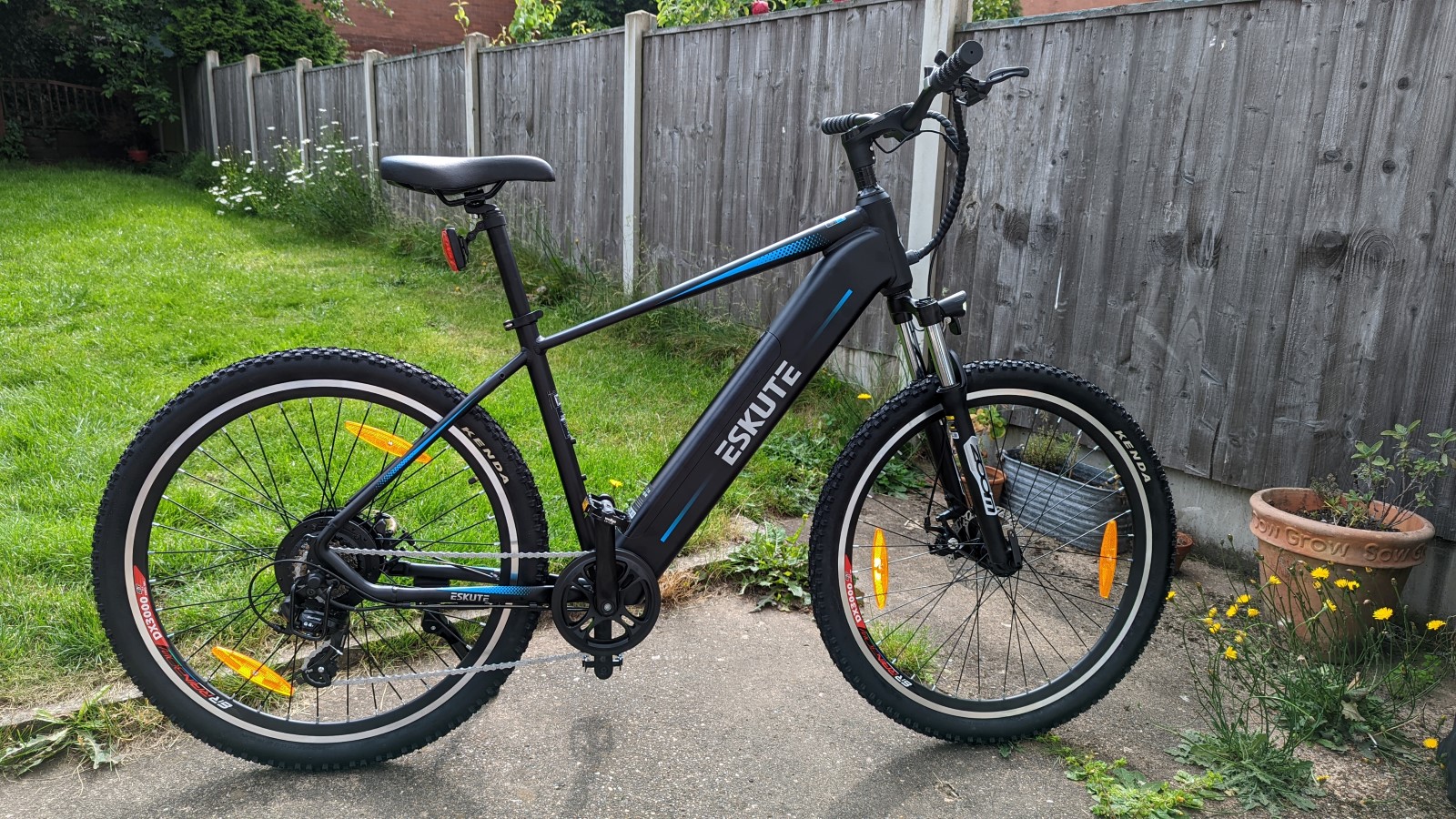 Cons
Heavy
Jerky power delivery
Price When Reviewed:

$1,459
If you're not convinced by the Carrera Vengeance E, or you don't live in the UK and therefore can't buy one, the Eskute Netuno is another hard-tail mountain bike to consider. It's the follow-up to the Voyager and – at a glance – it's impossible to tell them apart.
There are some upgrades here, though, including a neat display built into the handlebar stem. The battery is removable for easy charging, which will be a critical tick-box for some people.
The fork and chainset are entry-level components, but this leaves room in the budget for a decent Bafang motor.
It costs $400 / £300 more than the Voyager, which isn't ideal, but it's still at the more affordable end of the scale for anyone wanting an electric bike for some off-road fun.
Read our full
Eskute Netuno review
11. Fiido M1
Pros
Great fun to ride off road
Folds up for storage
Cons
Heavy
Limited warranty support
Price When Reviewed:

$1199.99
Most folding bikes are designed for commuting, but not the Fiido M1. If the tyres and suspension don't give the game away, it's for off-road riding.
Unlike cheap Chinese folding bikes we've tested, the M1 is sturdily built and feels sure-footed at speed, both on and off road.
Battery life is pretty good, but the 25kg weight and those wide tyres mean you're not going to enjoy riding it under pure pedal power – especially if you have to cycle up any hills.
However, our main concern is that there's limited warranty support should any components fail: Fiido doesn't have a repair centre in Europe yet.
Read our full
Fiido M1 review
Where to buy an electric bike
You can buy electric bikes from many bike shops these days, including Halfords in the UK. Often you'll be able to test ride one – some companies will even loan you a bike for a day or two so you can really try them out.
A lot of electric bike manufacturers sell direct to the public. This can mean they're a bit more affordable, or better value, but do consider how you'd return the bike if there is a problem. It's costly to return a bike to China, which is why most Chinese bike manufacturers will offer to send replacement parts you can fit yourself, or take to a local bike repair shop.
Don't be put off buying Chinese bikes, though: quite a few brands now have warehouses in Europe, UK and the US, so delivery is quick and won't cost a lot. Local bike shops are better equipped now to service and repair electric bikes, too.
What's important to understand is that you get what you pay for with e-bikes. So, if you can afford to spend more than £1000, it's wise to do so. Even at this price, it's almost impossible to find one which doesn't have some compromises in component quality.
You might consider that a lot of money, but that's an entry-level electric bike. Top-end electric bikes can cost several thousand: as much as a used car in some cases.
Electric bike buying guide
When choosing a bike you should first decide what type you want. All types are available including road, hybrid (touring / commuting), mountain, folding, shopper / step-through.
Here are the key things to look for:
Frame size
Weight
Sensor type – torque or cadence
Gears
Claimed range
Warranty terms
Some of those are fairly self-explanatory, but it's worth briefly covering them all.
Don't expect there will always be a choice of frame size. Some of the bikes reviewed here come in one size, and it may be too big – or small – for you.
For weight, bear in mind that that e-bikes can be heavy, and therefore harder to ride with no assistance from the motor than a normal bike. Weight can also be an issue if you have to carry your bike up flights of stairs. But there are lightweight options at around 15-16kg – the heaviest e-bikes can weigh upwards of 25kg.
You should also consider warranty and longevity. An e-bike may be cheap, but if a component fails you don't want to have to pay to send the whole thing overseas for repair. Worse still, if you can't get replacement parts at all, your bike may cease to work at all.
Some come with a thumb throttle so you can increase the assistance instantly, but under UK law this is not allowed. Bike which meet current regulations come with no throttle at all and the motor just senses when you're pedalling.
Special brake levers are installed on some e-bikes. These detect when you apply the brakes and cut power to the motor.
There are laws in the UK covering electric bikes, and you can read more about which electric bikes are legal to use on the road.
Bikes that conform must have a motor outputting 250 watts or less (peak power can be higher) and must not operate the motor over 15.5mph. Also, you have to be 14 or older to ride one.
Similarly, it's worth getting a branded battery (Panasonic, Samsung, Sony etc) or at least checking if you can buy replacement batteries. Lithium-ion packs can be recharged between 800 and 1000 times, which could mean a three-year lifespan if you commute to and from work. And batteries will lose their capacity over time, meaning the bike's assisted range will decrease as the battery ages.
A removable battery means you can take it indoors to charge: handy if you don't have a mains socket in your shed or wherever you keep your bike.
If you do buy a bike, you might be interested in our recommendations for the best bike lock for electric bikes and bike helmets.
Electric bikes too expensive? Convert your existing bike with a kit
If you already own a bike, you can add a motor and battery to it and turn it into an electric one.
Swytch
One of the best-known kits is from Swytch, but they're so popular that you'd have to wait six months to get one, or pay over the odds to skip the queue. The current Swytch kit costs £449 / $449, but if you want to wait only three months, it's £549 /$549.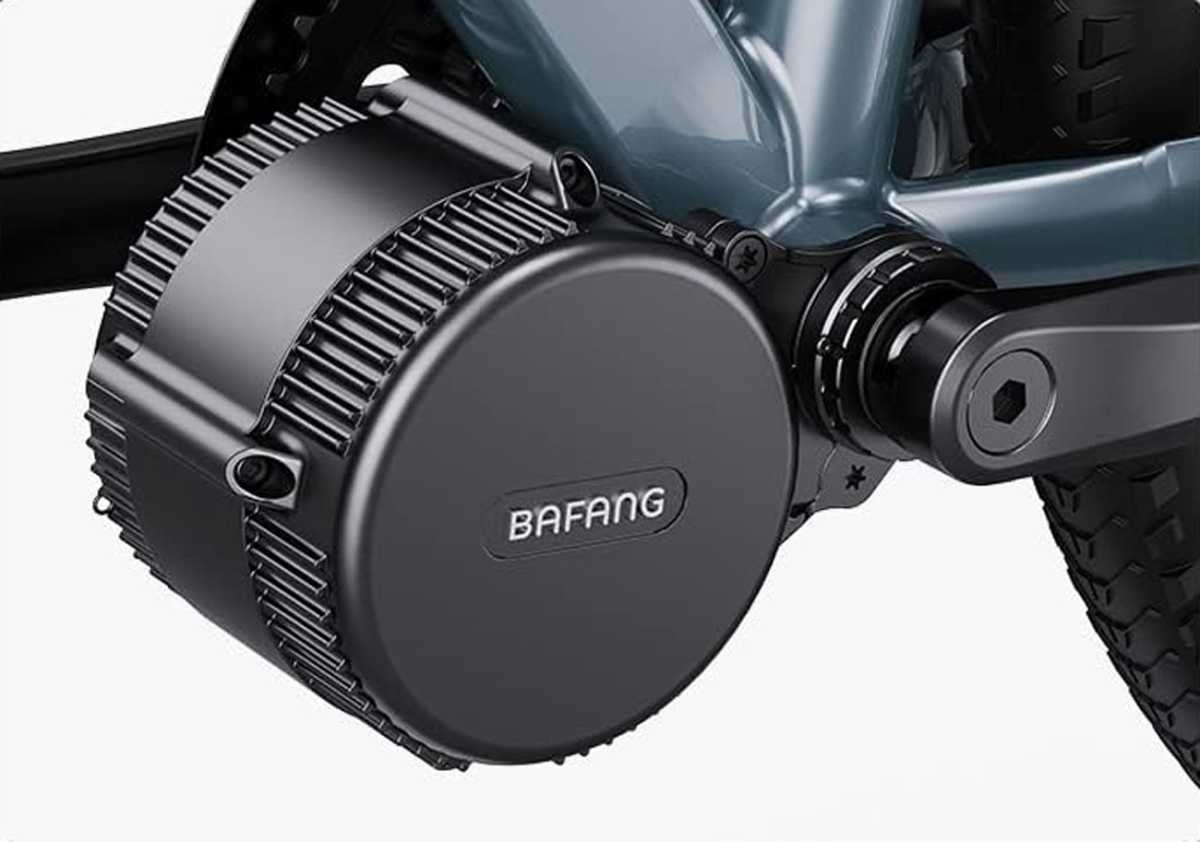 Bafang
You could alternatively buy a kit from Amazon such as this Bafang one. It replaces your bottom bracket (crank) and is much more difficult to install than a Swytch kit, but it's cheaper at around £400 / $400 and there's no waiting list.
Alternatively, there's the Rubbee X which is the easiest of the lot to install because its motor rubs against your bike's tyre and helps to turn it. That costs €549, though, (around £480 / $580) so it's a more expensive option.